Global Leadership Challenges

What are Global Leadership Challenges?
Global Leadership Challenges are short-term, fast-paced, experiential learning programs designed for students around the world to engage in high impact educational practices, community-based learning opportunities, cross-cultural collaboration, and applied leadership development. 

Jacci Grace, The University of Auckland, Summer 2020
"The prospect of collaborating with people around the globe to discuss, challenge, and tackle environmental issues seemed like an opportunity one would be crazy to miss! From a cultural perspective, I was curious to see how other cultures have been affected by environmental issues and how they as a collective provide sustainable solutions."

Bola Olapade, University of Exeter, Summer 2020
"I enjoyed the talk with Michael Fakhri, the UN Special Rapporteur on the Right to Food. The discussion initially centered around his job, experiences, and how COVID-19 has affected his daily workings [...] We had the chance to ask him meaningful questions such as the situation in Yemen and what he and the UN were doing to address the crisis going on there." 

Celine Koh, Nanyang Technological University, Summer 2019
"Everyone has been so accepting and understanding of each other's cultures since day one and I've seen how we've grown closer and looked out for one another over the span of 14 days. It also gave me hope that this generation will be able to live more cohesively regardless of language, race or religion."

Eliza Amstutz, University of California, Los Angeles, Summer 2019
"As I have said aloud many times during the program, I have never been part of a group of such kind, welcoming, people. I have felt my growth as a leader and group member during these past two weeks. The program was very well run and so much thought was put into it, it truly exceeded my expectations."

Lizzie Westley, University of Exeter, Summer 2020
"A massive thank you for the amazing program that was the Global Leadership Challenge 2020. It truly was an inspirational experience and I am so grateful to have taken part. The transition to online learning was seamless; learning from experts in the field and forming a bond with everybody over zoom was extraordinary. You really have made this program remarkable and I appreciate all your hard work and effort both prior to and during the program. I miss it already!"

Andrew Prasettya Japri, Universitas Indonesia, Summer 2019
"I've never experienced learning like this. University of Oregon Professors don't just talk at you. In my school, I am bored. Here I am asked to share my ideas and perspectives. All students in Indonesia should experience this." 
See where our students are from
Participants are students from all around the globe, instructed and guided by faculty experts from the University of Oregon, local experts in Oregon and community partners from the Lane County area.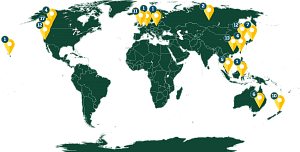 Global Leadership Challenges are offered in remote #NoPassportNeeded formats and live from the University of Oregon Campus in Eugene, Oregon. 
 

Summer 2019

Student leaders untangle Pacific Rim environment, health and inequality challenges. 

Summer 2020

Let's rise to the challenge, together. 

winter 2021

January 31 - February 19 2021

Are you an #NoVisaNeeded student? Notify us in your application to learn about scholarship opportunities!

 
Want to stay updated on the next Global Leadership Challenges? Sign up here.
For inquiries or questions, please contact UO's Global Engagement Coordinator, Grace Honeywell.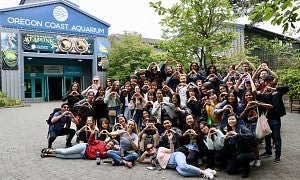 Why Oregon?
Because at the University of Oregon, we believe in providing more than just a solid education. We know that cross cultural engagement and global experience is critical in developing our next generation of leaders and we know that Oregon is the place to learn, to grow, to revive and to thrive. The Global Leadership Challenges provide students with an opportunity to practice hands on problem solving while establishing meaningful connections with peers and change makers – around the world.
Our Partners