Student Envoy Program
World Athletics Championships Oregon2022
In Summer 2022, the World Athletics Championships Oregon22 will take place at Hayward Field at the University of Oregon. Our community will welcome over 2,000 track and field athletes from almost every country in the world.
As part of the championships, the Division of Global Engagement (DGE) is working with the Office of the President to launch the Student Envoy Program, which trains and supervises a team of UO students, supplemented with community members when possible, to serve as local hosts and cultural guides to visiting athletic federations.
Questions? Please contact Emma Rinaldi (erinaldi@uoregon.edu) or Carlyn Schreck (cschreck@uoregon.edu).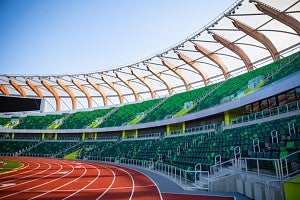 FAQs
Why is it a big deal that the World Athletics Championships Oregon2022 is taking place in Eugene?
The World Athletics Championships were started in 1976 and operate on a two-year cycle. Similar in scale to the World Cup (for soccer), the event attracts worldwide attention. The July 15-24, 2022 event will be the first time World Championships are held in the United States and the first time ever on a college campus. Over 2,000 athletes from nearly every country in the world participate!
Will people outside the US be watching?
The event will be broadcast to 200 countries with a global TV audience of 1 billion people.
What should I know about the Envoy program?
The Envoy program, run by the UO Division of Global Engagement (DGE) will train and supervise a team of UO students, supplemented with community members as possible, to serve as local hosts and cultural guides to visiting athletic federations. We will match each country delegation with a student or group of students (depending on size of delegation) who are from that country, have proficiency in the language(s) of that country, or other experience with the country and culture of the delegates.
What do Envoys do?
Envoys will be responsible for completing a variety of tasks and activities to ensure daily support throughout the event, such as acting as guides and cross-cultural interpreters, creating a warm sense of community and camaraderie for their visiting team and its members, providing local knowledge and connection to resources or support and generally ensuring a positive experience at the UO and Oregon.
What training do Envoys receive?
Students will gain background in cross-cultural communication; international negotiation; management of teams of diverse national origin, race, ethnicity and religion; hospitality skills; basic conflict resolution; and the long history and contemporary realities of sport as a medium for people-to-people forms of international relations. Courses were run through the Department of Global Studies (ex-International Studies) in the UO College of Arts & Sciences. Envoys are trained on the event through Oregon22, the local organizing committee.
Can you give me an idea of some specific Envoy tasks?
These could include an airport and campus welcome, accompanying their team to different events, or navigating them through and around campus. Envoys will be provided with a day-by-day schedule during the event in which their hours and responsibilities will likely differ based on the day. Envoys are expected to be respectful, adaptable, strong communicators, culturally aware and educated on their team and in general outstanding representatives of the UO and Oregon. Student Envoys will report to Division of Global Engagement and Office of the President Administrative staff.
Anything else Envoys should know?
Student envoys are responsible for securing their own housing during the July 15-24, 2022 event. To explore options, consult: https://offcampushousing.uoregon.edu. (NOTE: In providing a link to this website, GEO is merely sharing resources and does not work directly with or sponsor any of the housing providers).
Dates and Deadlines 
 

OCTOBER 1, 2021

Student envoy application OPENS

OCTOBER 31, 2021 (11:59 PM)

Student envoy application CLOSES

NOVEMBER 1-14, 2021

Applicants notified of acceptance into Envoy Program

november 15-24, 2021

Envoy Training course registration

(1-credit Winter Term 2022 course, UGST 112)

january 3, 2022

Training Begins
The World Athletic Championships Oregon22
This is the very first time the World Athletics Championships will be held in the United States. Our very own historic Hayward Field will host the world's best track and field athletes as they compete. You don't want to miss this. 
200+
Countries participating