Student Envoy Program
World Athletics Championships 2022
What is the Student Envoy Program?
In Summer 2022, the World Athletics Championships Oregon22 will take place at Hayward Field at the University of Oregon. Our community will welcome over 2,000 athletes from almost every country in the world.
As part of the championships, the Division of Global Engagement (DGE) is working with the Office of the President to launch a Student Envoy Program, which will train and supervise a team of UO students, supplemented with community members when possible, to serve as local hosts and cultural guides to visiting athletic federations.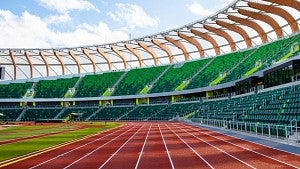 Seeking Faculty Leader
We are currently seeking a faculty leader for the Global Engagement Academic Residential Community and Student Envoy Program in preparation for World Athletics Championships Oregon22.
The Lead Faculty for the Envoy program should have:
Background and/or expertise in the curriculum topics and in student leadership work.
Track record of entrepreneurial, fast, and creative work.
Ability to collaborate with and mobilize colleagues from many units across campus.
Flexibility and passion for global engagement and athletics.
File
Faculty Leader for Student Envoy Program description
Upcoming Dates and Deadlines 
 

March 5, 2021

Faculty Leader Application Deadline

March 8 - 12, 2021

Review with Selection Committee

March 19, 2021

Faculty Leader Notification and Selection
Spring Term 2021
The Faculty Leader will work in collaboration with a Global Engagement Program coordinator to finalize and propose the Syllabus and Memorandum of Understanding for the Global Engagement ARC and the Student Envoy Course. 
Questions or concerns? Please contact Grace Honeywell (shoneyw6@uoregon.edu) and Carlyn Schreck (cschreck@uoregon.edu).
 
The World Athletic Championships Oregon22
This is the very first time the World Athletic Championships will be held in the United States. Our very own historic Hayward Field will host the world's best track and field athletes as they compete. You don't want to miss this. 
190+
Countries participating