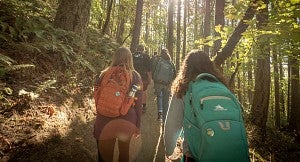 Designing Sustainable Development
January 31 - February 19 2021
Application deadline: January 11, 2021
What is the Global Leadership Challenge? 
The Global Leadership Challenge is a short-term, fast-paced, experiential learning program designed for students around the world to complete community-based learning, practice cross-cultural collaboration, and develop their leadership skills.
When will the program take place? 
File
Winter 2021 GLC Draft Schedule
Why should I apply? 
Participating in the Global Leadership Challenge will provide you with skills to be successful in life after university and will empower you to solve the challenging problems of our world today – alongside colleagues and collaborators from around the globe.
The Global Leadership Challenge will give you experience in working with multiple and real community stakeholders. It will provide you with remote and virtual collaboration experience. It will provide you with a community of like-minded and passionate individuals to connect with and create with. In a time where we must be adaptive and practice new ways of problem-solving – the Global Leadership Challenge is an opportunity to apply those skills and strengthen your professional knowledge.
How does it work? 
The winter 2021 GLC is an entirely remote program and it is structured as a synchronous/asynchronous hybrid. This means that the program combines synchronous activities – where all participants are logged on in real-time together via Zoom – and asynchronous activities – where you complete independent learning and activities on Canvas.
What happens in the program?
The Global Leadership Challenge has two main components – the first is workshops, lectures, and skills building with the University of Oregon faculty facilitators. These sessions provide you with valuable knowledge and learning. The second part of the program is solving the Challenge. Students are placed in small teams and assigned a real community partner. The community partner presents your team with a challenge. You then work together to creatively solve the challenge, implementing the skills and knowledge you've gained from the skills-building workshops. Each team presents its final solution at the end of the program and winners are selected based on feasibility, creativity, and collaboration.
Can I participate while also taking classes?
Yes, the winter 2021 GLC is designed so that you may complete it alongside a normal class schedule.
Who participates?
Undergraduate students from the University of Oregon and institutions around the world.
Are there scholarships available? 
Yes, please contact the program coordinator, Grace Honeywell shoneyw6@uoregon.edu, to inquire about scholarship eligibility.
When is the application deadline for Winter 2021?
January 11, 2021. 
I've applied – what now?
Applications are accepted on a rolling basis. Once your application is reviewed you will be notified of the admissions decision. If you are accepted you will need to confirm your participation within seven (7) days.
What do past participants have to say about the GLC? 
---
Sign up now!