Expedition Oregon
A journey with a common purpose.
About the Word "Expedition"
We're intentional about our use of the term Expedition in two ways.
First, our team has extensive experience in bringing together students from various racial, ethnic, religious, national origin, and income backgrounds through shared experiences outdoors. We believe in the power of a common journey that breaks down barriers, establishes empathy, builds trust, and forges a sense of new community. Out in nature, humbled by its power and beauty, we are called to smell and gaze in awe, scramble, paddle, huddle, and ascend together. In our fellow travelers, we see common fears, joys, and basic humanity in ways that are just not possible or so quickly attained with the fast pace of everyday life. 
 
Second, we know that, especially in Oregon, there have been many expeditions in our history that had other purposes. We're intentional about reclaiming the journey, the common purpose, the bond with travelers, and the powerful engagement with the natural world. And so, as we reclaim this term, we acknowledge and explicitly reject its former association with conquest, land-grabbing, genocide against indigenous peoples, and white supremacy. These are real aspects of our history, and on our expeditions, we will face them, discuss them, and strategize practical ways to overcome them in leveraging the journey for inclusion, justice, and the dismantling of white supremacy.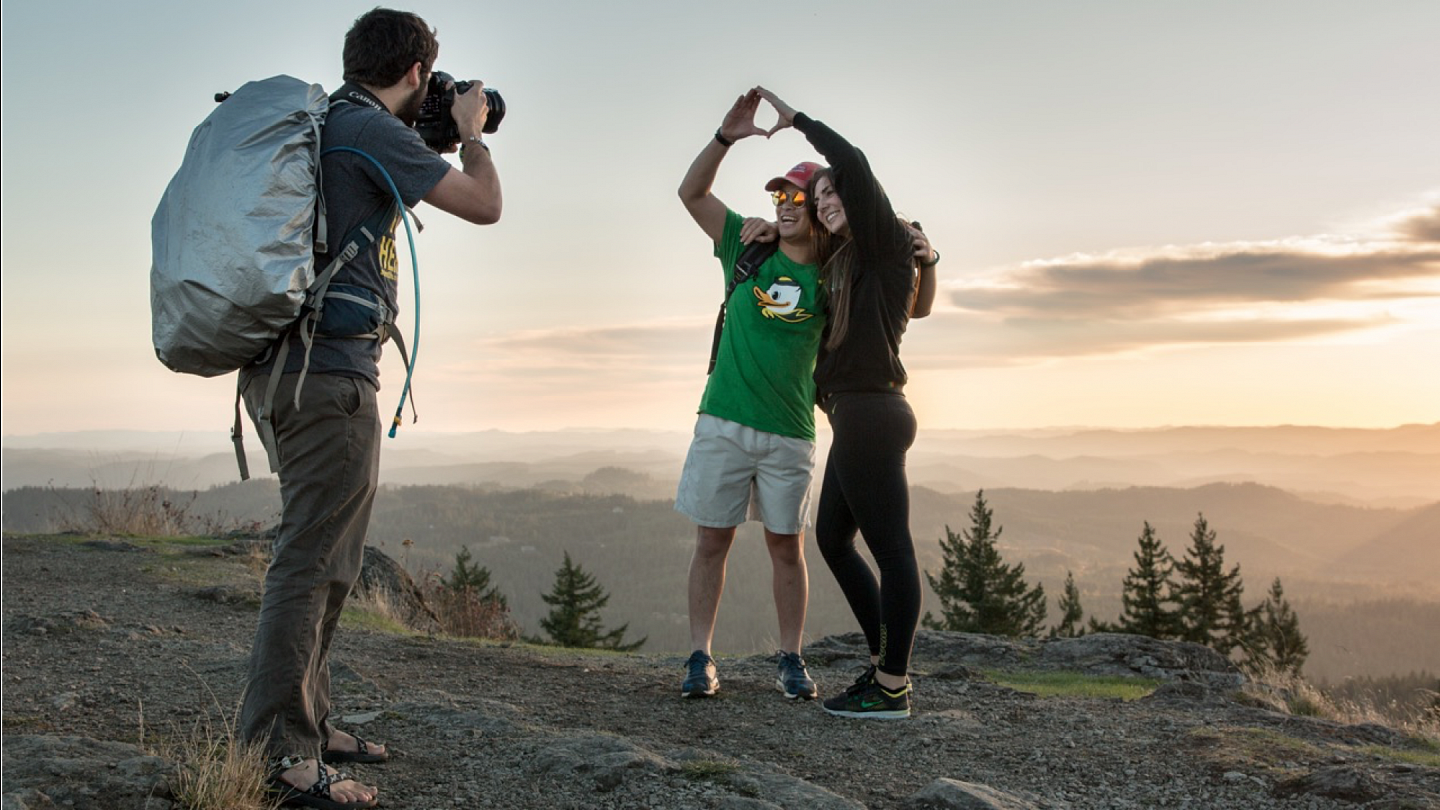 About the Program
Settled between the beautiful coast and the mountainous Cascades, Eugene offers easy access to stunning natural beauty as well as abundant outdoor adventures. In this program, you'll explore all that Eugene has to offer, including hikes around town with the possibility for trips throughout Lane County depending on current travel policies.
In-person safety precautions will be enforced. All skill levels are welcome!
Become a Participant
You will dedicate three hours per week to group activities focusing on leadership development, community engagement, and academic success. Register by February 28, 2021.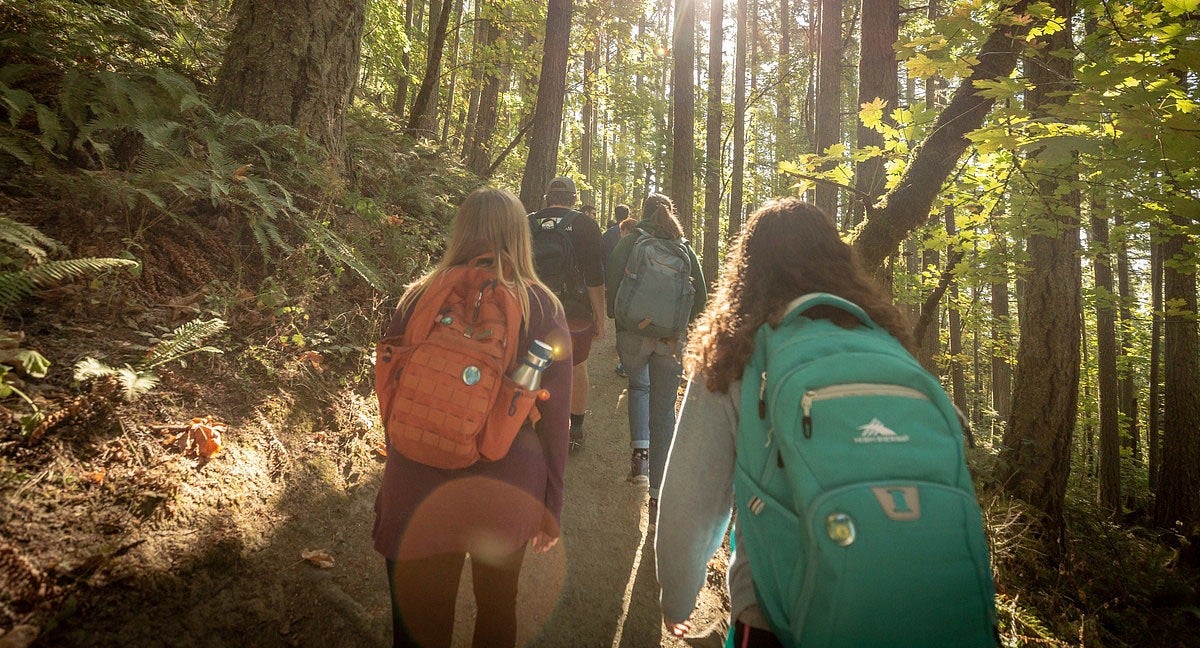 ---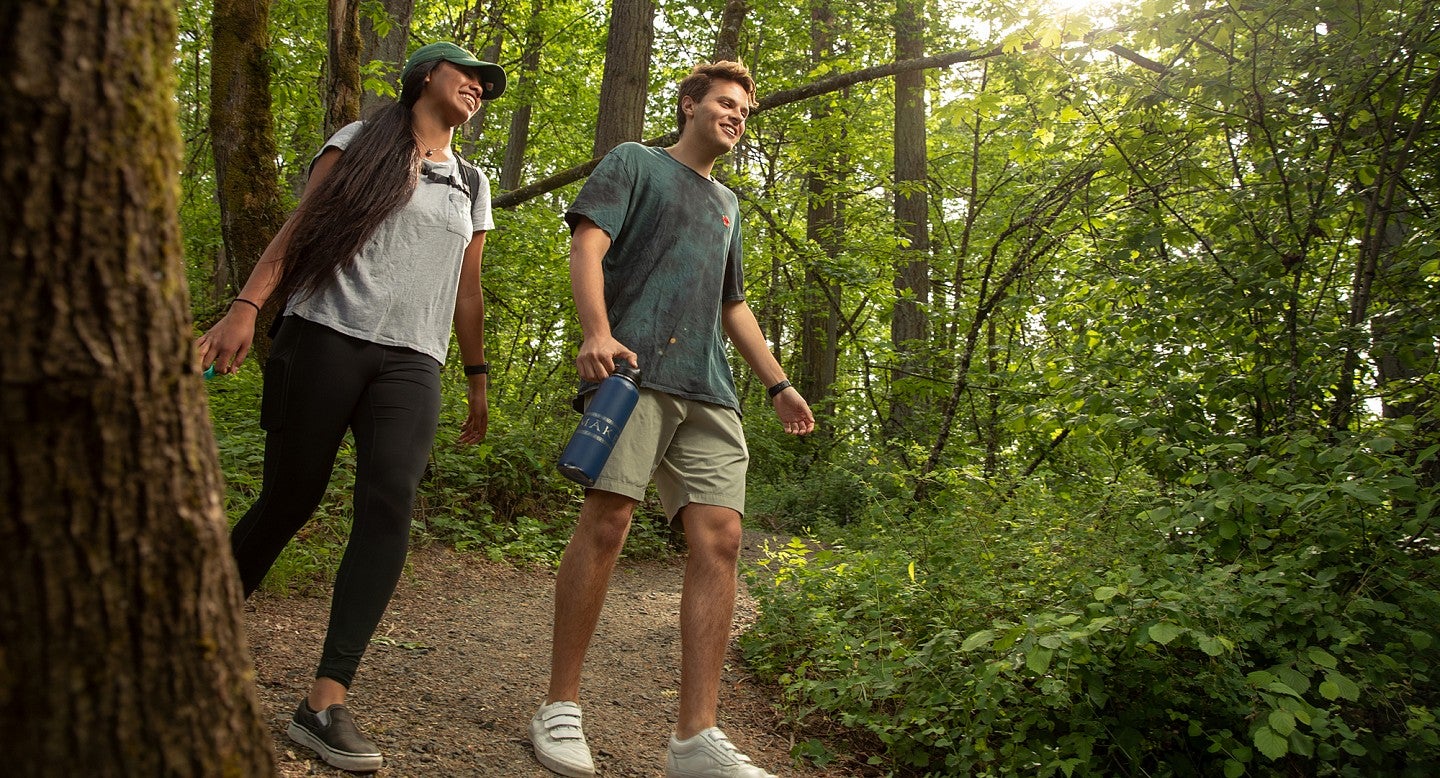 Become a Team Leader
(paid position)
A student team leader will lead each group on weekly outings. Training is provided for this paid student employment opportunity.
Dates & Deadlines
The program begins on April 12 (week 3 of spring term) and continues until June 11, 2021.
Register by February 28, 2021!
Questions? Contact Patrick McMurdo at pmcmurdo@uoregon.edu.
---
Cost
$100 with scholarships provided based on need. Contact Patrick McMurdo at pmcmurdo@uoregon.edu to learn more.
---
More Information
As UO students, 2020-2021 is a journey unlike any other, fraught with personal challenges and global dilemmas. The resilience required of each of us is akin to a wilderness expedition that necessitates leadership skills, behaviors, and mindsets that help us persevere in the face of challenges. Outdoors and in the classroom, we are bound by a common purpose that is foundational to our success.
Over the course of seven weeks, several small student cohorts will have the opportunity to practice teamwork, strengthen their academic efficacy, and learn technical outdoor training and leadership skills through two different activities:
Campfire Sessions
During the interactive campfire workshops, you will gain a greater understanding of self, learn from your peers, and hear from global adventurers to build a community that will support your academic success for years to come. The campfire is a welcoming place to share your experiences and be supported with empathy, advice, and ideas. Your team leader will give advice on academic plans, clubs, and student engagement as they develop the tone set in a campfire setting.
Guided Mini-Expeditions
In day-long outdoor adventures, you will practice leadership skills and build relationships with each other to overcome simulated challenges. Examples may include waterfall hikes up the McKenzie River, exploring old-growth forests, mushroom hunting, bike rides around Eugene, or snow-camping skills development. While building friendships, you will quickly find a sense of belonging within the University community. You'll even discover some of the local activities that you can participate in outside of the program, such as local conservation efforts.
 
Faculty Spotlight
"I've traveled to over 30 countries and spent years of my life in some of the world's most pristine wilderness areas, and while I have missed international exploring this year, I am reminded of why I choose to live in Eugene. Our access to the outdoors is unparalleled; the forest of Hendricks Park, the wonderland of the Willamette River, and the Oak Savanah of Mount Pisgah are places that I have visited more frequently and more deeply over the last year. These explorations have been critical to my own physical health, mental well-being, and building community safely outdoors. Personally and professionally, I believe that outdoor recreation is a profound catalyst for reflective thinking that yields benefits in my own leadership development, teaching practices, and professional growth. I don't need to travel to distant lands on wilderness expeditions to gain that perspective; there is much to discover right here in our backyard."
Eric Boggs
Faculty Leader for Expedition Oregon
Director, Lundquist College Honors Program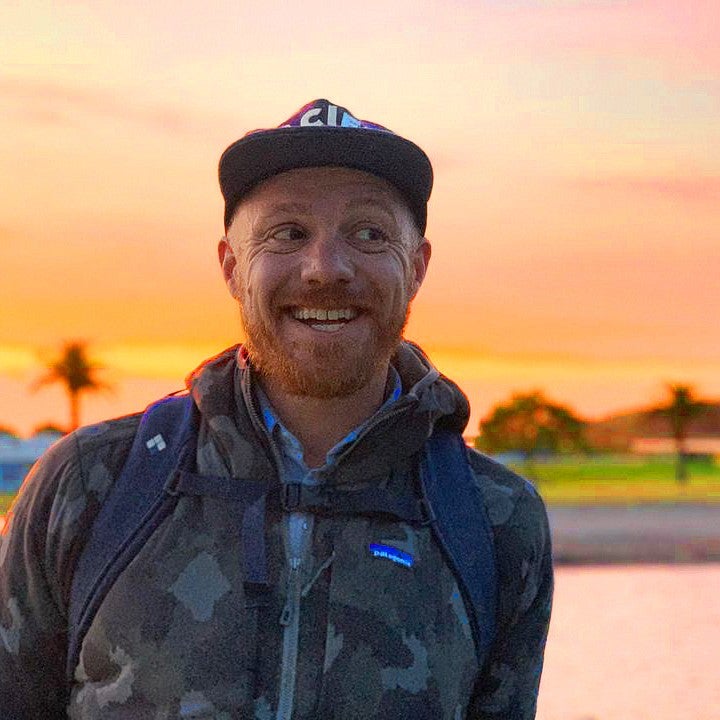 Territorial Acknowledgement
The University of Oregon is located on Kalapuya ilihi, the traditional indigenous homeland of the Kalapuya people. Following treaties between 1851 and 1855, Kalapuya people were dispossessed of their indigenous homeland by the United States government and forcibly removed to the Coast Reservation in Western Oregon. Today, Kalapuya descendants are primarily citizens of the Confederated Tribes of Grand Ronde and the Confederated Tribes of Siletz Indians, and they continue to make important contributions to their communities, to the UO, to Oregon, and to the world.
In following the Indigenous protocol of acknowledging the original people of the land we occupy, we also extend our respect to the nine federally recognized Indigenous nations of Oregon: the Burns Paiute Tribe, the Confederated Tribes of the Coos, Lower Umpqua and Siuslaw Indians, the Confederated Tribes of the Grand Ronde, the Confederated Tribes of Siletz Indians, the Confederated Tribes of the Umatilla Indian Reservation, the Confederated Tribes of Warm Springs, the Coquille Indian Tribe, the Cow Creek Band of Umpqua Tribe of Indians, and the Klamath Tribes. We express our respect to the many more tribes who have ancestral connections to this territory, as well as to all other displaced Indigenous peoples who call Oregon home.