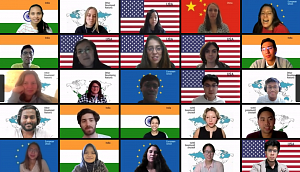 APRU Student Global Climate Change Simulation
120 students from 13 universities across 10 countries
agree to limit global warming to 2.1°C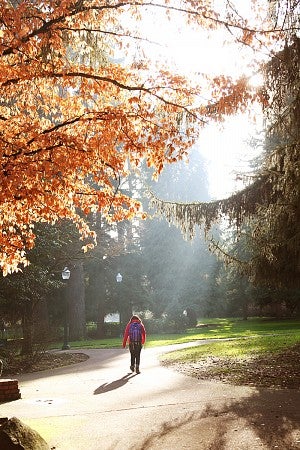 Here in Oregon and throughout the country, it's been another summer of worsening natural disasters. Fires throughout the west coast states, floods in the south, and hurricanes in the northeast, to name a few. Climate change caused by human activity is the unequivocal culprit, ironically leaving humans as the ones to stop it, or at least prevent the worst from happening. At the same time, the US and China have recently made significant declarations to address climate change at the UN General Assembly ahead of the UN climate negotiations held in Scotland this November. University of Oregon JD candidate Anne Wolke '22 says, "There is no possibility of success without global cooperation, and the consequences of failure are devastating. It will require a radical shift in our political and economic systems to achieve our goals, but we can do it. Our strength lies in our capacity for collective action." Those efforts are playing out right here on the UO campus.
Not only does the UO support 140 researchers working on environmental issues, but it also has thousands of students studying the environment in some of the best programs in the country, from Sustainable Business to Environmental Law. In keeping with this mission, the UO co-hosted the virtual APRU Student Global Climate Change Simulation across three days from August 11 to September 2, 2021, in partnership with the Association of Pacific Rim Universities (APRU) and the APRU Global Health Program housed at the University of Southern California. The UO's Global Studies Institute and APRU Sustainable Cities and Landscapes Research Hub teamed up to help run the simulation.
The APRU Climate Simulation is a role-playing exercise in which students worldwide participate in multi-disciplinary teams to play the role of delegates to the UN Climate Change Negotiations. The regions represented in this simulation included the US, China, India, the EU, "Other Developed Countries," and "Other Developing Countries." In total, 120 students from 13 universities across ten countries participated in this simulation. Ten of those students currently attend the UO across a variety of disciplines, from law to architecture. The program also included ten plenary speakers from organizations such as the UN Habitat Programme and Adidas and 16 faculty facilitators from APRU institutions.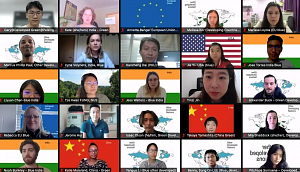 The APRU Simulation fits nicely within the goals of the UO's Environment Initiative, which coordinates and expands research, teaching, and experiential learning on the environment. The Sustainable Cities and Landscapes Research Hub and the Global Studies Institute are critical partners with the Environment Initiative in helping to ensure the global impact of UO's environmental excellence.
Adell Amos, Clayton R. Hess Professor of Law and Executive Director of the Provost's Environment Initiative, who was a faculty facilitator for the event, says, "The UO Environment Initiative hopes to expand experiential learning opportunities for students so that they can get substantial and practical experience working on the most important environmental problems. There is nothing more important than reducing global carbon emissions, and this particular simulation allowed students to experience the process and challenges associated with international negotiations regarding carbon reduction goals."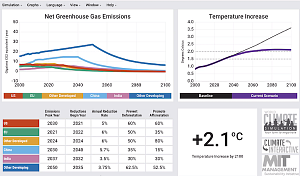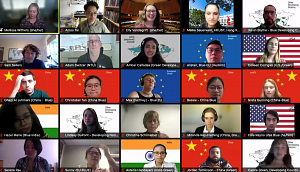 For this APRU Climate Simulation, students were randomly divided into groups as representatives of one of six economies. They were given briefing statements to help them negotiate on behalf of their regions. Each briefing statement contained a stated goal and provided country- or region-specific context, including public opinion, historical national action, forest and land-use priorities, and identified opportunities for improvements reflective of current real-world events. Every region shared a goal of limiting global warming to "well below 2°C above pre-industrial levels and pursuing efforts to limit the temperature increase to 1.5°C above pre-industrial levels," as was agreed upon in the Paris Agreement in 2015.
To achieve this lofty goal, three decisions were to be made by each economy:
When emissions will stop growing when they will begin declining, and at what annual rate emissions will decrease, if at all.
Whether to make commitments to reduce deforestation or plant new forest areas. 
How much to contribute, if at all, to the global climate fund. The fund is intended to provide at least $100 billion/year for developing countries to reduce their emissions and adapt to climate change.
After two days of negotiations, students participating in the APRU Climate Change Simulation were able to agree on efforts that would limit global warming to 2.1°C, just .1°C shy of the upper limit needed to prevent the worst effects of climate change from occurring. Throughout the simulation, students were enlightened to the complexity of the issues and the delicate nature of balancing the interests of various and often competing stakeholders.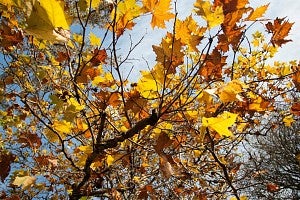 Despite falling just short of their goal, JD/MS candidate in Conflict and Dispute Resolution, Katie Moreland '23, says, "working on this issue with students from all around the world and all kinds of disciplines, like health care, economics, environmental science, and law, really created an enriched conversation. I think it helped us get to the point we got to."  
Moreland also noted a feeling we all tend to experience when talking about climate change: "it can get really sad and discouraging." Yet after the simulation concluded, the participating students were asked what gives them hope. Wolke echoed the sentiments of many students by saying, "it was encouraging to see that there are smart, dedicated people around the world who are committed to finding creative, equitable solutions to the climate crisis."  
In concluding remarks for the simulation, UO organizers Elly Vandegrift, Program Director of the Global STEM Education Initiatives for the Global Studies Institute at the UO, and Grace Honeywell, '16, former Global Engagement Program Coordinator from the Division of Global Engagement, recited a quote from Margaret Mead. It read: "Never doubt that a small group of thoughtful, committed citizens can change the world. Indeed, it's the only thing that ever has." 
Partners
Co-organized by APRU Sustainable Cities and Landscapes Program housed at the University of Oregon and APRU Global Health Program Housed at the University of Southern California. Thank you to all of our partners for making this possible.